Thank You NGA Volunteers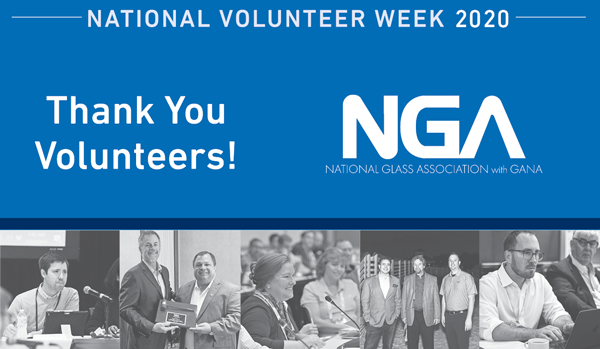 This week is National Volunteer Week, which is dedicated to celebrating the impact of volunteer service and the collective power of our volunteers to come together to tackle tough challenges and build a stronger, more resilient community. Thank you to our many volunteers who lend their time, talent, voice and support to the initiatives of the association in our glazing and glass building products community.
We know your volunteerism extends well beyond just this week, and we are grateful for each activity and interaction we have with you. "We are in this together" seems to carry more weight currently.
We also encourage you to inspire others to take action and discover their purpose towards creating meaningful change.
In the video at right, NGA Chair Chris Bole of Pikes Peak Glass & City Glass Company, shares his appreciation and encouragement for all NGA members and partners volunteering for the association, and for their community.
If you're interested in getting involved, visit our Committees page or contact sara@glass.org for direct assistance.
"Volunteering for committee work within NGA is both an honor and a responsibility. Through the process, I have gotten to know amazing people with incredible amounts of industry knowledge. Each person takes seriously the responsibility involved with creating documents for use throughout the industry, and each person comes to the table with something to teach and something to learn."

"Through the collaborative efforts on these committees and the teaching and learning processes, relationships based on mutual respect are formed. These relationships benefit the individuals and the industry."

"I understand that many of the opportunities our industry enjoys today are the direct result of the hard work of previous volunteers. Through volunteering I better understand the issues facing our industry from multiple perspectives; and help formulate data supported solutions that better its landscape for the future."

"I'm a volunteer to learn from the best, bring back the knowledge to my company and be part of what will shape the future of the industry. I also do it for the people I've met over the years who I'm glad to call my friends."

"I volunteer for activities and task groups with the NGA because it helps my company and the industry in many ways. Collaborative teamwork and information generation make glass solutions more appealing in many situations. Hearing differences of opinion from diversely experienced professionals expands my own understanding of applications, solutions, and possibilities."

"I regularly use and have come to rely on many of the industry documents created through the volunteer efforts of past and current leaders in the glass industry. By getting involved and volunteering myself, I get the opportunity to contribute my own small part to these documents and hopefully help others in the same way."
NGA's new webinar series—Now and Next: Surviving the COVID-19 Crisis
Thirsty Thursday webinar | May 21 at 1:00 pm ET | Updates to glass railing requirements by Vicente Montes, Curtainwall Design & Consulting
NGA Glass Conference | week of July 27 | check back here for updates in the coming weeks regarding schedule, format and programming
GlassBuild America | September 15-17 in Las Vegas, NV | check out the new GlassBuildAmerica.com for details.
NGA Glass Conference: Clearwater Beach | January 18-20, 2021 | Opal Sands Resort in Clearwater Beach, FL.