Glass for Human Health at the IYOG 2022 Closing Ceremony in NYC 
To commemorate the many ways glass was celebrated throughout the world during the International Year of Glass 2022, the United Nations hosted a special capstone event at their New York headquarters on Dec. 14. NGA Advocacy and Technical Services Director Urmilla Sowell presented how architectural glass provides comfort and security as well as improves mental and physical health to building occupants, which supports UN Goal #3: Ensure healthy lives and promote well-being for all at all ages. The presentation was moderated by Katy Devlin, Associate Publisher & Editor-in-Chief, Glass Magazine.
Watch a Recording of the Event
How does architectural glass contribute to human health?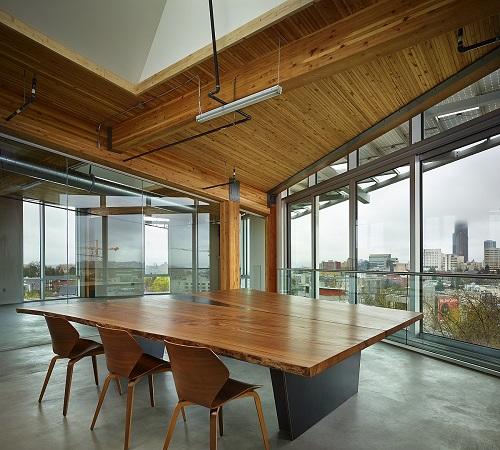 Glass in buildings can provide comfort and security as well as mental and physical health benefits to building occupants.
Daylighting and Views: Access to daylighting and quality views provides better learning, faster healing, and higher productivity. NGA maintains a resource library of published information on daylighting, including summaries and research papers describing the human impact of daylight and exterior views.
Biophilic Design: Feeling a connection to nature can have various psychological benefits, including improved attention and focus, stress recovery, better mood, increased productivity, and improved well-being. Glass is often featured in biophilic design in architecture, giving views of nature outside and allowing light to enter to support plants or trees growing inside the building. Watch how glazing can connect occupants with the natural world while meeting security, energy efficiency, and acoustic comfort goals.
Thermal Comfort: Glass brings light into homes and public buildings while keeping the weather out. High-performance, energy-efficient window systems can dramatically improve occupant comfort: they have lower heat loss, less air leakage, warmer window surfaces that minimize condensation and they allow less noise from the outside into the building. Watch the NGA Thirsty Thursday webinar Recent Advancements in Glazing Technology, Fenestration Performance and Energy Codes to learn about high-performance window features that reduce heat transfer, cutting the energy lost through windows and improving comfort. 
Operable windows can be included in building design strategies for natural ventilation. Fresh air is needed to alleviate odors, provide oxygen for respiration and to increase thermal comfort.
Human Connection: During periods of lockdown due to COVID-19, one way to visit with loved ones was to give each other comfort through glass windows and doors. As businesses reopened to the public, many installed clear personal protective barriers to physically shield employees from each other and from consumers. Safety glass installed for personal protective barriers can provide a sleek, professional, sanitary, yet welcoming feel for consumers. Download NGA's free resource Glass for Personal Protective Barriers.
Indoor Air and Surface Quality: Humans spend about 90% of their time indoors. Indoor concentrations of pollutants are often 2-5 times higher than typical outdoor concentrations. Coated glass products can have a net positive impact on indoor air quality using antimicrobial and disinfection technologies. Three technologies available are electrically conductive coatings, silver & copper coatings, and photocatalytic coatings. Watch Glass Options for a Healthy Built Environment to learn how glass can be part of the solution to improve indoor air quality.
Protective Glazing: Window and door systems can be designed to resist fire, hurricanes and windstorms, earthquakes and floods. Glass can help keep students and workers safe in an active shooter situation or bombing situations. In this International Year of Glass, NGA and ASTM International were able to fast track a testing standard for glass used in buildings for cases of active shooters. Schools can incorporate windows resistant to active shooters in high-risk areas such as entrances and cafeterias by specifying windows that meet, at a minimum, the new consensus standard ASTM F3561. NGA offers many resources on protective glazing, including the Protective Glazing Manual and Glass Technical Papers Security Glazing and School Security Glazing.