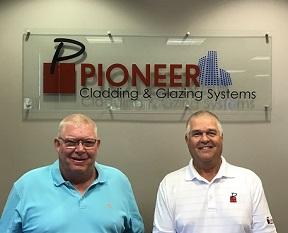 Leadership: Tom Heinold, chief executive officer; Tim Hoh, vice president, field operations; Dale Fenn, director of design; Kip Larison, lead engineering resource specialist; Coleman Jones, director of business development; Jim Benagh, sales resource specialist; Paul Robinson, operations manager–Cincinnati; Mike Robinson, general manager–Cleveland; Wes McAllister, operations manager–Baltimore

Learn more about the leadership team.

Website: pioneerglazing.com
 
Locations:

 

CINCINNATI, OH
4074 Bethany Road
Mason, OH 45040

CLEVELAND, OH
2550 Brookpark Road
Cleveland, OH 44134

INDIANAPOLIS, IN
526 Belvedere Drive
Kokomo, IN 46901

BALTIMORE, MD (operations)
7195 Troy Hill Drive, Suite 109
Elkridge, MD 21075   

BALTIMORE, MD (shop)
150 Alco Place
Halethorpe, MD  21227   

JOHNSON CITY, TN
1805 N. Roan Street, Suite G-8
Johnson City, TN 37601

Years in business: 20 Years, established June 1999


Products & services offered: One-stop-shop for your exterior façade. While we specialize in the design, engineering, fabrication and installation of custom unitized curtain wall, we complement that by owning additional cladding materials such as sunshades, fins, metal panels, louvers, skylights, terra cotta, UHPC as well as many other cladding materials. 

Company motto: Pioneer is your value-added partner to design, fabricate and install innovative, high-quality unitized curtain wall and custom building façades.

Keys to success:
Culture!
Schedule management
Ability to adapt to changing market conditions
Early collaboration in the design-assist process

Biggest challenge for the year ahead: Industry manpower is still the number one concern. 

One word to describe the industry: Innovative

If you are interested in having your company highlighted in an upcoming NGA member newsletter, please email to Wayne Nelson at: wnelson@glass.org.