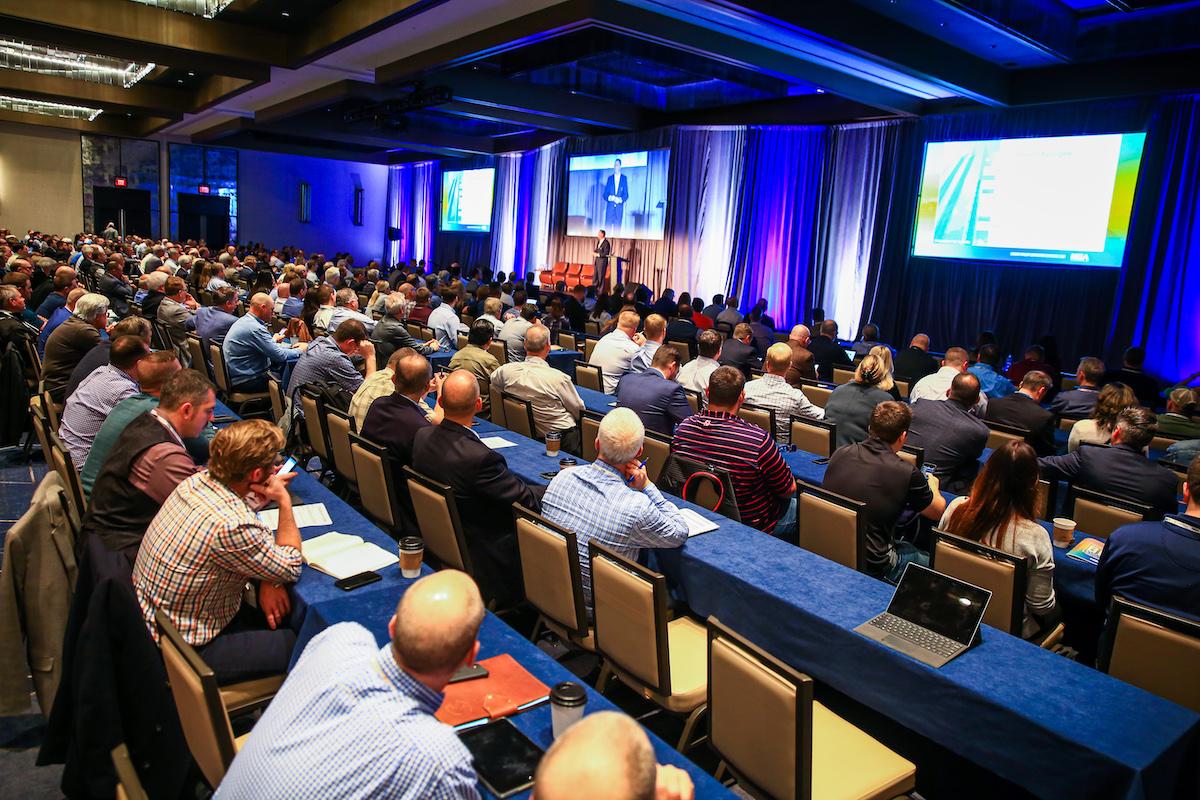 Glass and glazing industry leaders have gathered in Nashville this week for the 2020 BEC Conference organized by the National Glass Association. The event, held at the new glass-clad JW Marriott, marks the largest BEC in a decade with 680 attendees.
The theme of the conference is Glass 2020: Advanced. Innovative. Complex. "It's all about taking the industry to the next level," says Matt Kamper, chair of the NGA Installing Committee and head of contract sales and estimating for Woodbridge Glass.
The agenda features technology-focused presentations examining glaziers' role in the new world of 3D modeling and delegated design, along with discussions surrounding project team collaborations. The 2020 BEC Conference also offers glaziers a closer look at need-to-know codes and standards, from new energy performance requirements to emerging calls for bird-friendly glass. "Our goal is to look at key topics, key issues and address where they are going to affect glaziers," Kamper says.
The main conference agenda kicked off, March 2, with a presentation from Apogee CEO Joe Puishys, returning as keynote speaker to BEC for the first time since 2015. "A lot has changed in the last five years. A lot has not changed. We all know our industry often moves at glacial speeds, particularly with regard to the implementation of new technology. But it moves at lightning speed in other things," he said.
Puishys outlined several major changes to the industry in recent years:
Competition
"Some competitors we have today were barely visible five years ago," he said. Driving this, in part, is the strengthening of the U.S. dollar, which has made foreign competition more cost competitive.

Change of command
The industry is witnessing a generational shift, as longtime employees and leaders enter retirement. The next generation of leaders will need to be developed to fill these roles. "We need to be focused on succession planning, and development and retention of our talent," Puishys said.

High-performance
The market has pushed for more efficient wall systems, driven in large part by increased stringency in codes and standards. The trend presents an opportunity for industry companies. "It helps us at the end of the day that higher technology products don't get [value-engineered] out of ultimate building decisions," he said.

Larger sizes, bent glass
In addition to more efficient glass and glazing systems, glass companies are meeting demand for larger and larger sizes, a trend that is poised to continue, Puishys said. Additionally, bent glass, including bent insulating glass, has become an achievable solution for more projects.

Environmentally friendly products
"We are being asked to minimize the impact of glass on nature," said Puishys. Five years ago, the industry responded to calls to address problems with sea turtles gravitating away from the ocean toward beachside homes, due to interior light visible through the glass. Now glassmakers are responding to concerns over bird-glass collisions. "We can supply glass with the frit to prevent this. We have the solution," Puishys said.


Renovation
Renovation represents a "huge opportunity" for glass companies, as building owners look to upgrade existing systems in favor of higher-performing products, Puishys said. "The new generation of workers care about energy and renewables. They want a building they like that is energy efficient," he said. "The size of the market of existing buildings is 100 times the size of the market for curtain wall glass and windows that go into new construction each year."
For more coverage from the conference, check out #BEC2020 on Twitter, or read updates on GlassMagazine.com, NGA's official publication.