Image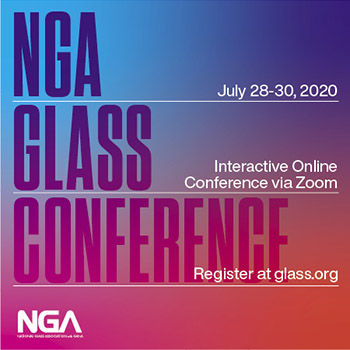 Registration is open for the NGA Glass Conference, an interactive online conference scheduled for July 28-30, 2020.  
Members and non-members are welcome and encouraged to attend. All rates will remain as published.
NGA member rate: $150.00
Non-member rate: $200.00
Contact Josh Lowe or Sara Neiswanger for registration assistance if needed.  

Due to the COVID-19 pandemic and company-enforced travel restrictions, the event previously planned to occur in Northbrook, IL will now be hosted via private online video conference using Zoom. FAQs on the new conference format can be found HERE. 
Participants can expect an extra dose of educational content with opportunities to engage in live Q&A with presenters. Sessions will address matters affecting the entire supply chain and will offer a terrific picture of industry-wide issues.
Sessions
Tuesday, July 28
10:30 am - 3:00 pm ET
10:30 am - Log in to Zoom / Network with fellow attendees
11:00 am - State of the National Glass Association, presented by Nicole Harris, NGA President & CEO
11:15 am - The World of Glass: get insights on production changes, market trends and the manufacturing outlook of the float glass manufacturing industry in the midst of COVID-19.
12:15 pm - Break
12:30 pm - The New Normal: Manufacturing: COVID-19 has forced glass and glazing suppliers to change the way they operate, from the plant floor to the office. Learn how companies around the world have adapted; and hear best practices about addressing supply chain challenges, ensuring a safe and healthy work environment for all employees, introducing digital processes and more.
1:30 pm - Break
1:45 pm - Advocacy Committee initiatives review, including Advocacy Ambassadors, building code official education and special COVID-19 education measures.
3:00 pm - Adjourn
Wednesday, July 29
10:30 am - 3:00 pm ET
10:30 am - Log in to Zoom / Network with fellow attendees
11:00 am - The New Normal: Design & Construction: Hear from a panel of industry players as they discuss the state of building design and construction pre-pandemic versus present day. Participants will discuss leading challenges, market drivers, building segments to watch, trends in building design, jobsite considerations and more.
12:00 pm - Break
12:15 pm - Nano Learning: hear mini-sessions on NGA's newest AIA presentations: Daylighting 101, Protective Glazing 101 and Bird-Friendly Glazing.
1:00 pm - Break
1:15 pm - Troubleshooting for Glass Fabricators: Learn how to investigate and address glass processing problems from a panel of leading experts. The session will present common challenges in glass tempering, insulating and laminating, and will offer best practices in identifying, addressing and preventing future defects.
2:00 pm - Break
2:15 pm - A Digital Industry: Factory to Jobsite - The pandemic has accelerated the glass industry's move to digitize and digitalize. Hear panelists discuss the trends, challenges and opportunities in bringing digital processes to the factory floor, office, jobsite, sales meetings and more.
3:00 pm - Adjourn
Thursday, July 30
10:30 am - 3:00 pm ET
10:30 am - Log in to Zoom / Network with fellow attendees
11:00 am - All About Glass: Architects' Top Questions Answered: Does all glass need to be heat soaked? What is anisotropy? Do all railings require laminated glass? Tell me more about the safety factor for guards. Learn the answers to top questions from the design community from a panel of experts.
11:45 am - Break
12:00 pm - Safety Glazing 101: This session will answer common questions about safety glazing, including test standards, labeling, certification and quality control. Learn where safety glazing is required in buildings according to building codes and how to comply with federal regulations regarding recall procedures.
12:45 pm - Break
1:00 pm - Technical and Codes Update: Hear the latest energy and safety code updates from the NGA advocacy and technical team, as well as the current work items within ASTM, ASHRAE and NGA.
2:00 pm - Break
2:15 pm - Macroeconomic Update, presented by Connor Lokar, ITR Economics: A highly-regarded speaker at NGA's annual Glazing Executives Forum will present a macroeconomic update on the construction industry and overall economy. Connor specializes in the construction industry and his dynamic approach offers business leaders a fresh look on how to make economic intelligence applicable and actionable. He allows attendees to walk away with a better ability to plan for the future with confidence.
3:00 pm - Conference Wrap Up & Adjourn
Thank You to Our Sponsors
Technology Sponsor