NGA Glass Conference: September brought glazing industry technical leaders back together in person on September 15 in Atlanta, GA, in tandem with GlassBuild America. The conference included educational and informative presentations and discussions, with actionable takeaways for NGA Committees.
Conference Highlights
Image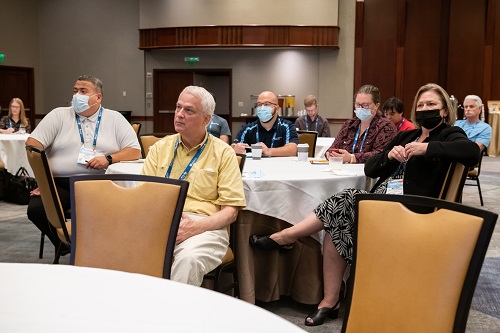 Image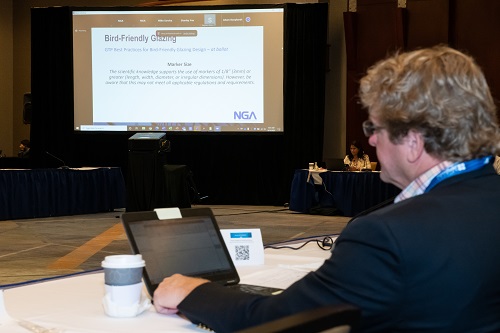 Image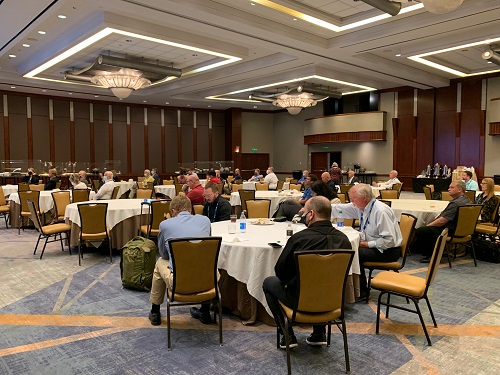 Glass Magazine Associate Publisher, Editor in Chief, Katy Devlin opened the conference presenting key takeaways and trends gleaned from Glass Magazine's Top Fabricator, Top Metals, Top Glaziers and Market Trends reports.
During the Glazing Industry Stakeholder Discussion, Adam Burghardt of Guardian Glass provided an overview of current ordinance and legislation surrounding bird-friendly glazing, including existing test methodology limitations, the lack of clear path to compliance and product approval, and inconsistent local and regional implementation.
NGA resources on this issue include Bird-Friendly Glass Design Strategies and the upcoming Best Practices for Bird-Friendly Design Glass Technical Papers. The latter will include prescriptive recommendations for marker placement based on a double-glazed unit.
The focus shifted to sustainability and embodied carbon, with Helen Sanders of Technoform and Kayla Natividad of NSG discussing the origins and application of sustainability. Sustainability in building design takes into account energy efficiency and operational carbon, embodied carbon, material transparency and the human benefits. Stephen Selkowitz, Affiliate LBNL, introduced PAWS: Partnership for Advanced Window Solutions program, which aims to accelerate the adoption of advanced windows and window attachments.
The discussion on glazing for building and school security led by Vaughn Schauss of Kuraray America, Inc. and Julia Schimmelpenningh of Eastman Chemical Company, covered the need to educate architects on bullet-resistant glass application and retrofit best practice. A new task group was formed to work on a repeatable, consensus-based industry test standard.
A working lunch featured a Technical Codes & Standards Update from NGA Code Consultants Tom Culp of Birch Point Consulting, LLC, Thomas Zaremba of Roetzel & Andress and NGA Technical Services and Advocacy Director Urmilla Sowell. The Update focused on upcoming changes in the energy codes and an in-depth look at building code regulations for existing buildings in light of recent catastrophic events in Florida.
In the Glazing Industry Contributor Discussion, Frameless Shower Enclosures task group chair Danny Donahue of Frameless Hardware Company, LLC explained the premise of the new Frameless Shower Enclosure Design Guide. It will cover swinging, sliding, or moving panels of the shower enclosure with no full-length metal attachments on the top, sides, or bottom. Upon publication of the design guide, NGA Installing Committee members will begin developing an extended installation guide.
Stay Tuned for New Resources
NGA volunteers have nearly completed the development of a new glass technical paper on thermal bridging. NGA Code Consultant Tom Culp explained the concept, including the requirements to address thermal performance of fenestration systems and their interface with surrounding conditions. The resource will be available in the NGA Store soon.
NGA Decorative Liaison Michael Saroka of Goldray Glass shared information on the updated glossary of decorative terms. This resource was previously only accessible online. The content has been formatted for download and brought up to date with current technology, and will be available in the NGA Store soon.
Task Groups
The conference concluded with an update from NGA Committee Chairs on activities in progress. New task groups seeking volunteers include:
Design Considerations for Laminated Glazing
Dynamic Glazing for High Performance
Other Benefits of Fire-Rated Glazing
AIA Presentation Designing with Decorative Glass: Cast and Heat-Formed (task group is calling for photos to complement the presentation)
If NGA members are interested in participating in these activities, contact Amber Johnson.
Join us for the next NGA Glass Conference on January 24-26, 2022 at the Renaissance Long Beach in Long Beach, CA.