Volunteerism empowers you to find purpose, to take your passion and turn it into meaningful change.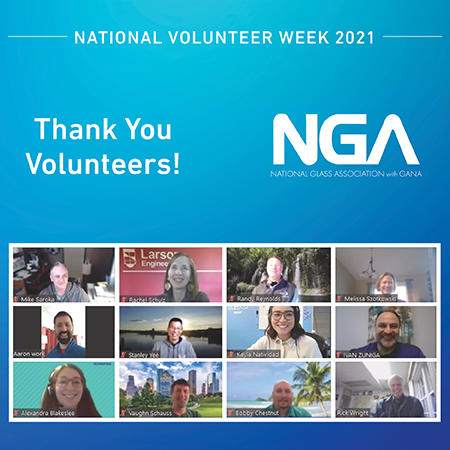 April 18-24 is National Volunteer Week, dedicated to celebrating the impact of volunteer service and the collective power of volunteers to tackle tough challenges and build a stronger, more resilient community. The past year has been a striking example of the wide-reaching benefit that stems from unification in support of our partners and peers.

This week, and all year long, we value and thank our many volunteers in the glazing and glass building products industry who offer their time, talent, support and voice to the initiatives of the organization.

View the photo album from the recent NGA Glass Conference: February 2021 to see some of our NGA volunteers getting involved. Also, be sure to review the NGA Annual Report 2020 detailing the value creates with the help of our volunteer members, for our industry.
Get Involved
Our Advocacy & Technical Services team is always recruiting new volunteers for our committees. Join an active task group to be part of our work in glazing and glass building products.
From Our Volunteers
Michael Saroka, Goldray Glass
"To volunteer is to have a voice, and through the collection of voices, experiences, knowledge, and talent that makes up the NGA, we have grown and moved the industry forward, and it is exciting to be a part of that."
Casey Anderson, ICD High Performance Coatings
"I'm intrinsically driven to connect with the professional and personal communities in which I reside, discover their needs, and learn where I can help most. Volunteering provides opportunities not only for seasoned subject-matter veterans to impart wisdom, but also offers a welcome space for newcomers who seek to establish a network brimming with insight around industries, systems and services. I consistently find myself on both sides, depending on the conversation – skillful in some topics, novice in others; but the greatest value I receive from volunteering is fresh perspective, which amplifies my ability to create meaningful solutions."
Matt Hanna, Glass Coatings and Concepts
"Volunteering for NGA activities and task groups gives me the opportunity to give back to the industry that supports us, keeps me informed of current issues facing glass, helps me to learn new perspectives from other NGA members' diverse set of experiences, and allows me to bring new industry knowledge back to my company. Even better, through the years I've formed valuable working relationships and close friendships with people from all corners of the glass industry. It is truly worth the time and effort I put in."
Danny Donahue, The Frameless Hardware Company
"I value the NGA and what it means to our industry, so volunteering on a technical task group appealed to my sense of imparting knowledge and collaboration. I'd suggest volunteering to anyone who cares about their business and wants to have a hand in working with the governing body that supports glass."
Jon Griggs, Guardian Glass
"Volunteering with NGA is quite fulfilling. You get the opportunity to create relationships with friendly and knowledgeable people within the industry, you have an opportunity to influence industry technical documentation and you learn more about topics that you may be less familiar with from recognized subject matter experts."
Steve Dean, Permasteelisa
"My participation in the NGA has been beneficial both professionally and personally. Involvement in the Installing Committee provides access to the latest industry news with the ability to make a difference in how our market works. The networking opportunities are world class, literally. The global recognition of the NGA name provides interest and participation from top tier companies around the world. Volunteering in the NGA to shape my profession, my industry is an easy decision for me."